Is there benefit to start music young for your toddlers? YES!
It creates stronger connections in the brain for cognitive development that includes brilliant coordination skills and musical sensitivity. This is what I call the "X-Factor"
Expression Music has two specially designed courses that give your young ones a head start in their musical education:
Expression Music Genius (EMG) and Expression Music Fun (EMF).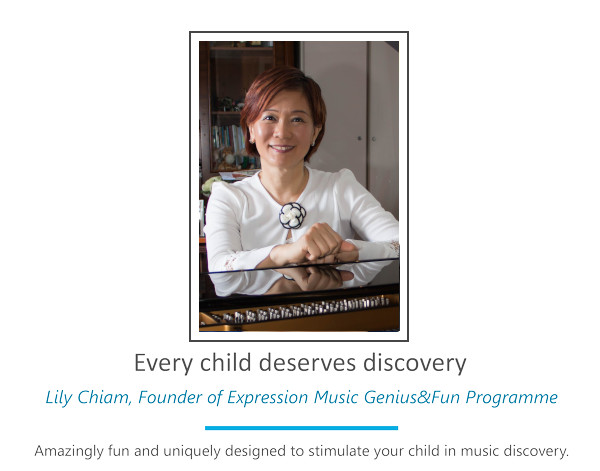 Unleash the Musical DNA within your Toddler with the Expression Music Genius (EMG) Program

Expression Music Genius (EMG) is a 44-week music course designed to nurture your toddler through music learning and group interaction. The influences of music go far beyond the intellectual and physical development of a child.
The program is designed to help young children identify pitch and rhythm and the best age for this is between 2–5 years old. Developing an understanding of pitch is like identifying colors: each pitch of DO, whether played on a piano or violin, remains a DO. A SO is a SO. Like Red is Red, no matter from which angle you look at it.
Toddlers will surely enjoy learning through singing, drawing, dancing, cutting, writing and playing! It is a wonderful world of musical discovery of 7 tones, 7 letters of the alphabets, 5 numbers, 4 notes, 5 shapes based on 7 musical friends: alligator, bear, chick, dinosaur, eagle, frog and giraffe.
The lyrics of our songs are musically expressive and catchy. Some of the melodies to sing are also in solfege to encourage toddlers to develop perfect pitch awareness. Each song generates quicker reflect actions through movements, dance and gestures to strengthen rhythms and beats.
This entire musical course has been proven to be fun, educational and has indeed produced music prodigies!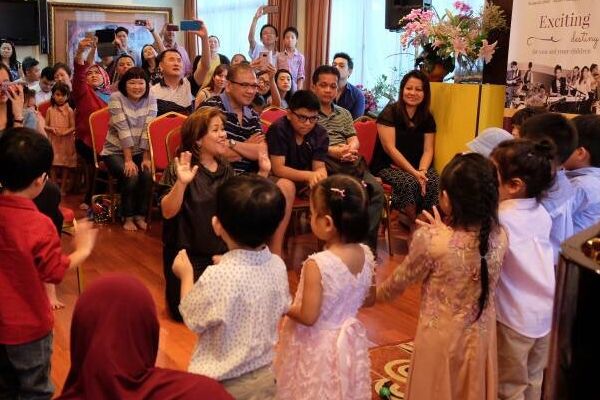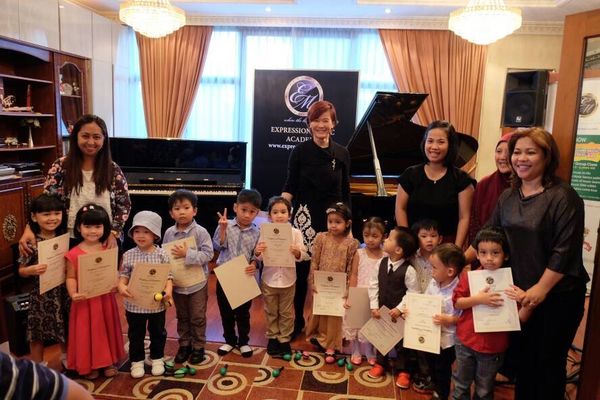 Register your child today!
Don't delay! Introduce your child to music with Expression Music Genius!
Register Now!
Nurture the Musical Talents in your Child with the Expression Music Fun (EMF) Program

Expression Music Fun (EMF) is a music course created to be a continuation of EMG. It is also designed to nurture children through music learning and group interaction.
Music experiences contribute to the growth of well-balanced children in sensitivity, expressiveness, and the spirit essential for functioning in a complicated world. Most of all, this course will develop young children to hear pitch and to feel rhythm. It is a great advantage for every child to be groomed to have perfect pitch awareness and understanding of musical elements.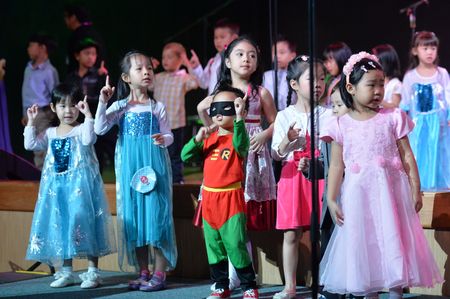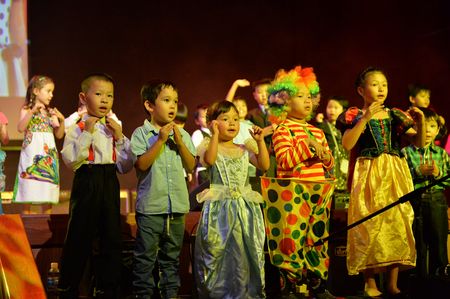 Nurture your child's musical talents!
Commit to your child's music education with Expression Music Fun!
Register Now!
Singapore Licence Holders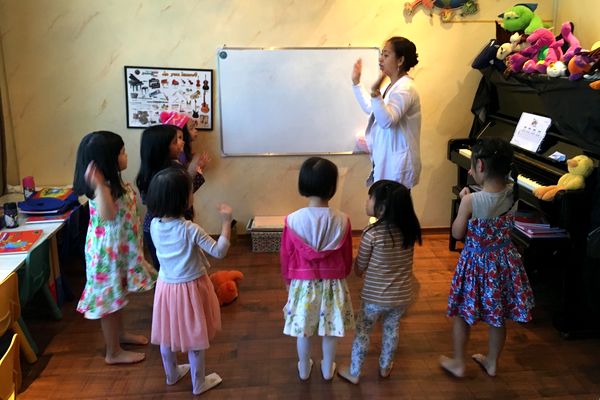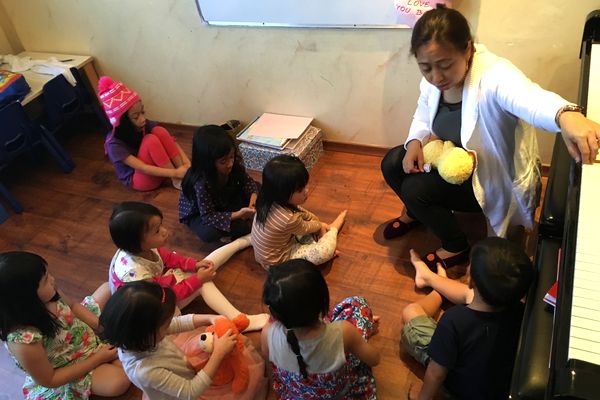 If you are located in Singapore our EMG/EMF syllabus is available at Midiworld:
Midiworld
57A Serangoon Gardens Way,
Singapore 555953
+65 685 80123
+65 966 03887
Testimonials
"Rui Yi has gained basic essential knowledge skills from EMG & EMG. Now at age 5, she has great confidence in notes reading, pitch recognition and memorization. She is enjoying music with ease. Thanks to EMG & EMF." – Mrs. Chin Huei Ang
"After taking both EMG & EMF programs, my children interact with others more easily. It helped them to progress at a faster pace and they seem to understand music easier." – Mrs. Diana Yan
"The EMG & EMF programmes have shaped Zoe (age 4) and Kayla (age 4) into young confident musicians." – Mrs. Alice Ho
"Samuel was only 3 years old when he joined the EMG class and I was impressed with his gift of perfect pitch. The method of teaching that was used in EMG & EMF has helped polish Samuel's gift in music greatly." – Mrs. Alicia Thoo
"Alyssa enjoys both the EMG and EMF courses very much. She enjoys her friend's company, the dancing and music. Most important of all, she likes the teachers as they are very patient with her. We view these 2 courses as music fundamentals for Alyssa before she starts learning an instrument. We will definitely recommend these 2 courses (EMG and EMF) to others. Thumbs up!" -Tan Siok Eng
"Pauline, Lucy and Emma look forward all week to a Sunday because its 'music day'! They jump about with excitement before going into music class and they always leave class with the new vocabulary. A musical energy and a desire to sing the new song or show us the new notes on the piano. They simply love music and feel so proud and excited to have moved from EMG to EMF, another 44 weeks of brilliant Sunday afternoons!" – Susan Blomley
"I believe all parents would always do the best for their children. I'm proud to say that I made the right decision for putting my son Jayden with Expression Music in EMG and EMF music group classes for toddlers. I'm so amazed and impressed that my son is well prepared for piano course through the 2 years of EMG and EMF courses." – Michelle Kong
"A great place to spend the weekends doing the things she loves singing, crafting…all a bit of fun" – Shafeeqah Morshid
"Music is an easy and wonderful tool for a child to express how he feels. Music has helped Kayden to develop his self-esteem, his rhythms and having fun in establishing the beginning of an inner voice. Kayden used to be quiet and reserved but because of his exposure to music, he is now a very vibrant boy and dares to ask questions about problems. He is even dancing or moving to other activities to accompany music by tapping rhythm sticks. I wish to express my sincere thanks to the school and the teacher for exposing Kayden to the world of music" – Susie Yap

Become a Franchisee Today!
The Expression Music Genius & Expression Music Fun courses are available exclusively at recognized Franchise holders. Contact Us to find out more about Franchising.